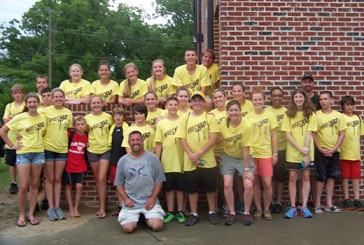 During a summer week when one would expect to see middle- and high-school students heading out of town to the beach, Hampton and Varnville residents instead saw 28 teens getting dirty and working hard to improve schools. From June 16-21, Sand Hill Baptist Church hosted "Student Missions in the Lowcountry," an event focused on changing and improving lives in the local community.
Gabe Dodd, a church planter from Alpharetta, Ga., led daily training sessions centered on serving others and being completely "Wrecked" for Jesus. Kyle Jones, a musician from Gainesville, Ga. (his album "Alive" was released in January 2009), served as music worship leader.
The week of mission projects was the culmination of a year of planning. In 2011 and 2012, Sand Hill sent mission teams to Boston and Minneapolis through NAMB's PowerPlant, but this year chose to serve locally. "The decision to stay home and serve this year seemed obvious," said pastor George Skinner, the mission team coordinator. "God affirmed the decision as community businesses and individuals stepped up with generous donations of resources that made numerous projects possible. When I approached school principals to ask if they had projects that our mission team could tackle, the lists included some very easy tasks and some large construction jobs."
Skinner said he intentionally chose the "God-sized tasks" on those lists" to be sure that God would receive all the glory for what was accomplished."
Area projects included building and improvements at schools. Rising seventh-grader Josh Terry served on a crew renovating the press box at the high school football stadium. On the last day of the mission week, Josh reflected that "a lot of people said we couldn't get everything done we set out to do this week, but with God's strength in us, we did."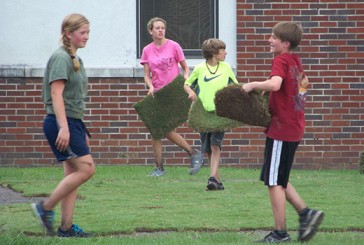 The mission team laid an 18-wheeler-sized load of donated sod (8,500 square feet) to beautify and make a school playground safer. Church members first removed eight dump-truck loads of disintegrating asphalt from an area that Skinner played on as a third grader. Then they hauled in five loads of topsoil in preparation for laying the sod. The team worked two areas of new concrete (also donated) that wheelchair-bound students will use to access the playground. They sealed an asphalt basketball court at the same elementary school. To complete the project, the team used funds they raised to purchase and install two new basketball goals.
In addition to upgrading the Wade Hampton High School stadium press box, a fourth crew worked concrete curbing for the long jump pit, framed up and worked a concrete foundation for a field house, and filled asphalt cracks on the track and in parking lots at the high school. At another elementary school, a crew painted 1,000 feet of hallway and a classroom.
About 180 people gathered for a neighborhood block party with free hot dogs and games for families, hosted by the same work crews. Skinner said, "It is our prayer that through our experiences with God in the field, He will change a life, and, in turn, change our community for Christ."
Four team members ages 11-13 professed faith in Christ for the first time during the week. Twelve more teens answered calls to leadership in ministry and rededicated themselves to the Lord.
Skinner said the mission team and its leaders ask for prayers as they seek God's guidance and direction for future mission projects throughout the year and for years to come.