What can bring a group of 100 women together — from teen to elderly and all ages in between — to spend a Saturday at church? Shoes. What could lead that same group of multi-generational women to share laughs, confess burdens, lean in close to hear a heartbreaking story, and encourage one another with an uplifting word for five hours running while working tediously with their hands? Again, shoes.
At Concord Baptist Church in Anderson, a Sole Hope shoe-cutting party united women from all backgrounds, age groups and neighborhoods in one effort: to provide shoes for children in Uganda who suffer from foot diseases due to "jiggers." Jiggers are small sand fleas that lay eggs in children's bare feet, causing sores, infection and sometimes amputation. There are millions of children in Africa alone whose feet are being attacked by the insects.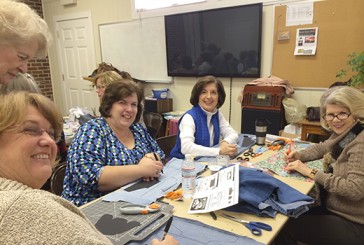 It all began when a couple of the church's members, Jerijo Cox and Cindy O'Brien, attended a conference where Sole Hope presented their ministry and mission to treat children infected by jiggers and to put closed-toed shoes on African children. Like Asher and Dru Collie, who founded Sole Hope, Cox and O'Brien felt they had to do something to help the Ugandan children. Thus a shoe-party kit was purchased at the conference.
Inside the kit  is a pattern for tracing and cutting out shoes, an instruction guide and an example of what the finished work should look like when pinned together and ready to be sent on to Africa for assembly. Also in the kit is a DVD with a video clip showing clinics where children are having  jiggers painfully dug out of their feet with needles and pins. That brief, graphic video clip was shown at Concord Baptist Church on a Sunday morning, and the invitation was given for women to join them for a shoe-cutting party at the church the following Saturday, Jan. 18.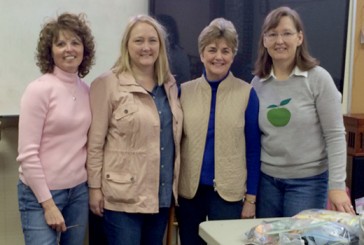 The women came in droves even though the church was also launching Upward basketball and cheerleading leagues on the church campus that same day and hosting the Children of the World Choir that same weekend. The women crowded into a cramped space, set up chairs, hustled about making more patterns to trace, found more scissors to cut with, and scrounged up Sharpie markers and colored pencils for tracing. At times it seemed like chaos — a good chaos. Not one lady complained. Instead, there was incessant chatter, laughter and joy.
In the end, the women of the church that day cut out patterns for 120 complete pairs of shoes and started just as many more patterns.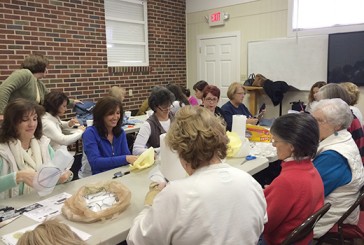 The 120 complete shoe patterns were shipped to Asheville, N.C., Sole Hope's hub in North America. Once the patterns, along with the patterns cut at other shoe-cutting parties all over the nation, arrive in Africa, Ugandan men and women will sew them into shoes and add rubber soles made from recycled bicycle tires. Many of the Ugandan women, trained and employed by Sole Hope as shoemakers, are widows, (commonly abandoned by their families in African culture,) and women rescued from human trafficking. They are taught a trade — shoemaking — which provides a lifelong skill and a living wage. The Collies are working with slums and villages in Eastern Uganda to bring jobs to men and women whose daily lives are greatly impacted by poverty. Sole Hope provides the shoemakers a chance to clothe the feet of the children in their village. The money they earn also helps feed, clothe, educate, and house their children.
Dru and Asher Collie and their ministry are meeting needs on every side, and they are sharing the gospel with the men and women and children they come into contact with in the clinics and through their shoe distribution.
The Concord Baptist Church women also donated medical supplies for the jigger clinics in Uganda, enough to fill two large appliance-sized boxes. In addition, several hundred dollars was collected for donation to Sole Hope to help pay the shoemakers and buy  bicycle rubber, sewing machines and supplies.
For information about hosting a shoe-cutting party, visit www.solehope.com.