At about midnight on Feb. 12, in freezing rain, Dorothy Edwards held a flashlight while Jack, her husband of 50 years, poured gasoline into a generator that powered lights and a small electric heater for an elderly woman in their community near Marion.
Earlier the same day, in the midst of a winter storm that paralyzed half the state and left thousands without power, exacting the costliest toll on South Carolina since Hurricane Hugo in 1989, Jack had set up a generator for another neighbor, Woodrow Lane, who required electricity for his oxygen machine.
Over the next few days, Jack and Dorothy helped clear roads, remove limbs from neighbors' yards, set up a shower trailer at the Marion Fire Department and assess storm damage across their community.
For Jack, who volunteers as a unit leader with the Marion Baptist Association chainsaw recovery team (part of the South Carolina Disaster Relief network), it was an opportunity to serve his own community by utilizing the skills he honed as a volunteer while serving at other disaster sites across the Southeast.
"It is different when the storm hits home," he said, discussing the tight-knit community "where most people call you by first name … people you comforted when they lost a family member and people who comforted me and my family when we lost someone … people you have knelt and prayed with.
"No matter where we go to help in a disaster, your heart goes out to the people, and you ask God to show you how to help each family."
Jack and Dorothy Edwards exemplify the servant attitude prevalent among the 5,000-plus volunteers who actively serve in South Carolina Disaster Relief through their local Baptist churches and associations, said Randy Creamer, SCDR director.
Creamer, an Anderson native and former disaster relief coordinator with the North American Mission Board who joined SCDR in May 2013, said South Carolina's volunteers take seriously the mandate to serve others, as Jesus taught in Matthew 25:35-40.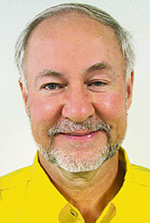 "Faith is to be lived out," Creamer said. "One of the ways to do that is to respond in times of hurt and pain and loss when we just want to do something to help people."
The work is hard, dirty and draining, but "a spiritually rewarding avenue to live out the Christian life," Creamer said. Volunteering through SCDR offers opportunities to touch the lives of people who might be "open to the things of God, eternal things that perhaps never existed in their lives before," he said. "We share our hope in Christ with those who have no hope."
Even though nearly 6,000 South Carolinians are trained for disaster relief work, more volunteers are always needed. But disaster relief work isn't for everybody. "For us as volunteers, disaster relief is a ministry of inconvenience," he said. "If you wait for it to fit your schedule, that time will never come."
South Carolina's "ministry of inconvenience" traces its founding to the weeks following Hurricane Hugo, when then SCBC staffer Cliff Satterwhite suddenly found himself coordinating South Carolina Baptists' response to the catastrophe. Modeling other state conventions' disaster relief organizations, Satterwhite set about building a network of chainsaw units, feeding trailers and assessment teams. Today, South Carolina has the third-largest disaster relief network among the Southern tier of state Baptist conventions. Satterwhite retired from disaster relief work earlier this year.
"It's a blessing to know Cliff Satterwhite, and it's a great honor for me to follow him," said Creamer. "Cliff really forged the path for us in disaster relief. God has grown it in 25 years' time."
A snapshot of South Carolina Disaster Relief reveals: more than 5,000 active volunteers (with more than 6,000 trained individuals); five self-contained feeding units; 60 chainsaw cleanup units; 25 flood-recovery units; 40 recovery/rebuild units; 10 assessment teams; 16 shower/laundry units; and three childcare units.
During the days following the February 2014 storm, when nearly 350,000 South Carolinians were without power, more than 70 SCDR teams responded to sites in 14 Midlands and Lowcountry counties and municipalities. Some teams deployed multiple times. Volunteers prepared more than 17,000 meals, provided hot showers and access to laundry units, and removed debris from hundreds of yards.
As SCDR moves forward, Creamer has three "challenges" for the network. First, he hopes volunteers will build strong relationships with their respective county emergency managers, the "gatekeepers" who can cut through the red tape when disaster strikes and volunteers want to help. Creamer would also like to see SCDR "get back to providing resources in sheltering," particularly manning emergency shelters. Finally, he hopes South Carolina can become the premier state convention in responding to flood events, one of the most common of natural disasters. "So few people want to do flood recovery," he said.
Wherever and however they serve, Creamer said, SCDR volunteers will continue to serve under the banner of "Bringing help, healing and hope."
For Jack Edwards, the SCDR volunteer who found himself providing trained disaster relief services to his own neighbors (even before cleaning up his own yard), it doesn't matter where disaster strikes, God is already there.
"The one person who is not different is Jesus Christ," he said. "He is the same, no matter where or when the storms hit."
For more information about South Carolina Disaster Relief, including information about upcoming training sessions, visit www.scbaptist.org/dr.