Teenagers from across the state gathered in Columbia May 3 for the 2014 State Youth Bible Drill. As families and church leaders looked on, the teens demonstrated their prowess at handling and memorizing the Bible.
After preliminary drills, the eight highest-scoring young people competed in the final drill. When the final scores were tallied, Taylor Ann Holland of Sand Hill Baptist Church in Varnville was the state drill winner, and Kayla Harrelson of Oakey Swamp Baptist Church in Conway was the runner-up.
It was an emotional moment when Taylor Holland was announced as the drill winner because Bible drill has been an important part of her family for three generations. Taylor's grandmother, Cathy Mixon, and mother, Nicole Holland, were both Bible drillers in their youth. Holland serves as the children's drill leader at Sand Hill Church, and Mixon is the youth drill leader. The family shared hugs and happy tears as they celebrated Taylor's accomplishment.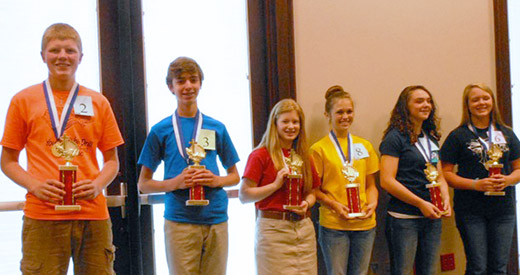 Each of the 25 participants earned their spots at the state drill by qualifying in both church and associational drills. For many, this was not their first time to advance through all levels. Youth Bible drill is open to seventh-, eighth-, and ninth-graders. Many youth drillers have also participated in children's Bible drill as fourth-, fifth-, and sixth-graders. Earning awards for advancing to state drill in all six of their drill years were Benjamin Baker of Elko Church, Elko; Eric McGee of Brushy Creek Church, Greenville; Taylor Holland; Jessica Edge of Bethlehem Church, Conway; Hannah Harrelson of Oakey Swamp Church, Conway; and Lilly Johnson of Pleasant Union Church, Conway (pictured left to right).
Bible drill has meant a lot to her over the years, said Taylor. "You hear all the time how important it is to hide God's Word in your heart, and that it will come back later and comfort you. That happens a lot to me now," she said. "I'll remember comforting verses that I learned five or six years ago in the children's Bible drill."
Coordinating the state drills for both age groups, as well as providing information and training to churches and associations, is the role of Caroline Perez, Bible drill consultant for the South Carolina Baptist Convention. Of youth drill, she says, "Memorizing 30 Scripture verses can seem like an overwhelming task. However, with consistent practice, youth can be successful at Bible drill. Many youth enjoy the teamwork and competition."
"Another quality that helps youth succeed at drill is family involvement. I have seen many families for consecutive years at our drills, including younger siblings who come to learn and older siblings who come back to support."
Taylor said she loved Bible drill despite the fact that it was sometimes difficult. "It was so much easier to simply put off practicing and do something else," she said. "Bible drill takes a lot of discipline and self-control. But in the end, as I look back on it, it is so worth it! It will probably be one of the most important things I ever do."