Before the first verse of the invitational hymn was complete, 15-year-old Jordie Skinner made her way into her pastor's arms. Next, lanky, outspoken 16-year-old Ryan Pevey went up front. Marvin Pyles, a 17-year-old newcomer to the youth group and Sunday mornings, and Emily Doyle, a 23-year-old school teacher and youth leader, followed and stood beside them.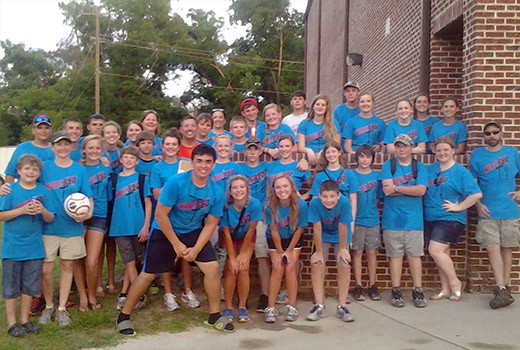 It was no coincidence that this group responded at the end of the June 29 worship service at Sand Hill Baptist Church in Varnville. They were among the 50 youth and adult team members who learned, led and lived servant-evangelism in Hampton County during the 2014 Missions in the Lowcountry week.
From June 21-27, the mission team — comprised of youth and adults from multiple churches — lived together at the church. Each morning, Georgia church planter Gabe Dodd (The Branch Church, Dahlonega, Ga.) and Kyle Jones, worship leader (Highlands Church, Gainesville, Ga.), guided students through the Scripture. By 11:30 a.m., teams scattered across the community to put hands and feet to their learning.
Projects centered on landscaping and painting schools. A crew cleaned up the overgrown high school football field end zone. Learning to use scaffolding and precision painting, groups gave new life to two elementary school cafeterias and the hallways of another elementary school.
All the halls and stairwells of the high school received a fresh coat of paint, as teams there learned how to tape and cover lockers and doors and use a paint sprayer to cover large areas. Families flocked to a block party held mid-week to enjoy free food, games and giveaways. Mission team leaders and students freely shared the gospel with more than 100 individuals.
On a practical level, students learned life skills to apply in family, church and community settings. The greater impact, however, happened in the heart of the Missions in the Lowcountry team. To culminate each day, youth and leaders met for more Scripture, worship and reflection on how and where they saw God at work.
As the team engaged in intense Bible study, worship and servant evangelism, God revealed Himself and changed lives. The four team members who went forward proclaimed God's specific call to them: for Jordie, the call to missions and ministry as a career; for Ryan, the call to rededicate his life to the Lord; for Marvin, the call to surrender his life to Jesus for the first time; and for Emily, the call to a career in ministry.
"As God impacts one life at a time and Christ's followers come to understand their purpose — to know Him and make Him known — then, and only then, will society see lasting community change for the good," said Missions in the Lowcountry leader George Skinner.
"We can't let this fire go out," insisted 10th-grader DeKelly Pittinger, another youth called to full-time ministry, during a group gathering. He confessed that the temptation may be to return to the status quo, after the mission week, of just being middle and high school students. Then he challenged himself and his peers "to hold each other accountable."
The team feels God calling them to remain in outreach ministry throughout the coming year and to reunite for another summer mission project to the community in 2015. The Missions in the Lowcountry projects began in 2013, when a team of 35 people worked on concrete, asphalt, paint and sod jobs at area schools. That year, four team members, ages 11-13, professed faith in Christ for the first time, and 12 more teens answered calls to leadership in ministry and rededicated themselves to the Lord.