Charleston Southern University Students packed 1,823 shoeboxes for Operation Christmas Child at CSU's sixth annual packing party.
At the packing party, students weave in and out of the aisles of the chapel, selecting toys, school supplies and necessities such as soap and toothpaste, hand packing each box one by one.
Prior to 2011, several clubs and organizations were packing boxes on their own. When Dean of Students Clark Carter was campus minister, he felt like the entire campus should get involved, and the packing party was born. "We have had incredible support from the very beginning from the OCC volunteer staff here in Charleston, especially Jennifer Roberts and Linda Rhyne from Hibben United Methodist Church," said Carter.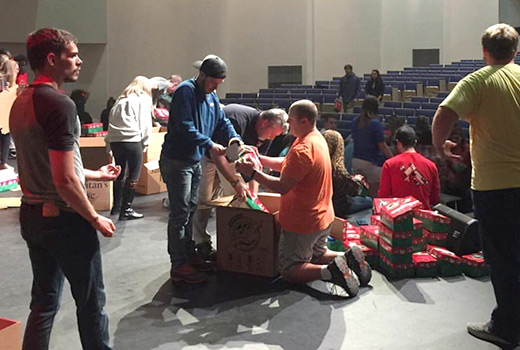 Carter believes the event is popular with students for two reasons. He said, "First, who doesn't love Christmas? Most students are excited about the holidays approaching, and this is a way to take their minds off of exams and papers for a few hours and think about Christmas. Second, who doesn't want to help a child?  We were all kids once, and we know how important it is to have a gift at Christmas and to know that someone cares about us and loves us."
Kevin Coriolan, director of student activities, said 10 organizations participated in OCC, packing a total of 240 boxes. The CSU football team packed and dropped off 54 boxes.
Organizations packing shoeboxes:
Campus Activities Board
Enactus
Delta Sigma Theta Sorority Incorporated
Spanish Club
Sigma Gamma Rho
Psychology Club
Student Nursing Association
Prepharmacy
Premedicine
Alpha Kappa Alpha Sorority Incorporated
Football team
Operation Christmas Child is a ministry of Samaritan's Purse and makes Christmas gifts possible for millions of children around the world each year. For many of these children, it is the first gift they have ever received.