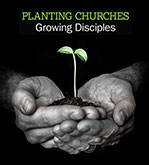 Few churches can say they have helped renovate the oldest building in one of the most historic parts of Boston.
During the 1775 Revolutionary War battle of Bunker Hill in Charlestown, Mass., the VFW building now used as a church meeting place was a private residence. "We believe we saved Celebration Church about $250,000 in rent over a five-year period by helping with this renovation work," said Bryant Sims, pastor of First Mount Moriah Baptist Church in Greenwood. "It was a mess, and we had to undo what previous volunteers had tried to do; but our men were there to make a difference, and they did."
Celebration Church is a Brazilian church plant pastored by Joe Souza, who is a North American Mission Board church planting catalyst. It is one of two Boston-area churches that have been embraced by First Mount Moriah in the past year. The other is TrueVine Church in Saugus (a suburb northeast of Boston), led by church planters Brandon and Miryam Allison.
Supporting missions is not new for First Mount Moriah. Sims, who grew up in Greenwood, has been the church's pastor for 13 years. For the past 12 years missions has been at the forefront of his church's prayer, conversation and giving. The church averages about 250 on Sundays, and about 45 go each year to serve a church in Cleveland, Tenn.
"I believe missions involvement is the single biggest key to church health and church growth," Sims said. "If you want a healthy church and a growing church, you must be involved with missions — not just missional tourism, but obedient missions service. Health and growth in the church starts with obedience to being missional."
In 2016, First Mount Moriah was coming to the end of an international missions partnership, and Sims was praying about where God wanted the church to go next. He received a call from Keith Shorter, pastor of Mt. Airy Baptist Church in Easley (and now president of the South Carolina Baptist Convention). Shorter invited Sims to Mt. Airy to hear David Butler, NAMB's Send City missionary to Boston. NAMB designates a Send City as one with the "greatest spiritual need and potential influence throughout North America." There are currently 32 Send Cities.
"It was an incredible trip," said Sims. "We met 12 planters on that trip, and I went with the intentional purpose to find a partnership there."
After the summer trip, Bryant returned to Boston in November with 12 men from his church. They had learned about Celebration Church, which needed help renovating its meeting place (the historic Charlestown building now owned by the VFW). They also wanted to help the Allisons with their church plant in Saugus.
Sims had been told about a retired police officer who felt it his responsibility to protect and care for the VFW building. "He had been somewhat of an obstructionist to what the church wanted to do," Sims said. "We prayed about that before we ever left Greenwood, and our guys immediately hit it off with that man — so much so that he's talking about visiting us in Greenwood."
"Throughout that week, we worshiped with and served those two churches. Our men fell in love with the church planters. We now have a partnership relationship with both churches."
Sims said Celebration is a more established church, "so we'll send volunteers up there to help with outreach and evangelism." With TrueVine, he said, there will be "more of a financial commitment to help them get started."
Sims said future trips to Boston may sometimes involve volunteers from Greenwood's Abney Memorial Baptist Church, where he grew up, and possibly a third church.
To help promote interest in Boston volunteerism and in other Send Cities, First Mount Moriah Church is hosting a missions weekend March 3-5. The event is open to all interested pastors and volunteers in Lakelands Baptist Association and beyond.
The Allisons will be on hand for the weekend, speaking at a free pastor's luncheon on Friday at 11 a.m. Shorter and Tim Rice, director of the SCBC Missions Mobilization group, will also speak. (An RSVP to Sims or Rice is requested for the luncheon. See contact information below.)
On Saturday, there will be a missions base camp for anyone considering missions service anywhere, helping contextualize how to share the gospel in other cultures like New England. On Sunday night, the Allisons will speak at a joint service hosted by Mt. Moriah and Abney Memorial.
For more information about serving church planters in Boston or other Send Cities, contact Sims for information and encouragement. His e-mail is thesims29646@gmail.com, and his telephone number is 864-227-8192. Tim Rice can be reached at 803-765-0030.
— Scott Vaughan writes for the South Carolina Baptist Convention.