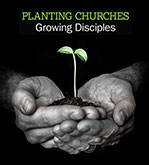 Finding accurate and up-to-date statistics regarding church planting in America can be both frustrating and challenging. However, the statistics do exist, and the big picture is clear. New churches are needed if we hope to keep pace with the increasing population. Existing churches must experience revival or revitalization — or whatever term we choose to describe an energized local body of believers loving God, loving others and obeying the commission to disciple others. We need church plants and healthy evangelistic existing churches.
The North America Mission Board has stated that approximately 900 Southern Baptist churches go out of business each year. According to LifeWay Research's 2015 church planting study, 4,000 new Protestant churches came into existence in 2014 while 3,700 existing churches closed their doors. A net growth of 300 new churches a year cannot come close to keeping pace with our population growth. Southern Baptists planted a total of 1,114 new churches that were SBC or SBC-affiliated in 2015. Among the broader group of Protestant new church plants reflected in the LifeWay study, 42 percent of the people who attended were unchurched, while 43 percent came from existing churches (with nine percent born to people who attended the church plants and six percent from other church backgrounds). Ed Stetzer, former LifeWay researcher, observed, "It is concerning to see an increasing number of church plants where the vast majority of the people are dissatisfied, disgruntled, or re-energized Christians." Still, church plants fare better than existing churches when measured by the ratio of members to baptisms. NAMB's statistics for church planting based on the 2015 Annual Church Profile revealed a ratio of one baptism for every 14 members for new church plants. The ratio for all SBC churches was one to 52. Stetzer said, "In winning converts to Christ, church plants are light years ahead of the average church because of their focus on reaching the lost." NAMB reported that 53 percent of baptisms in Canada in 2015 came from churches planted since 2010, as well as 83 percent of baptisms in Vermont.
Church plants that are successful share some common traits: meeting in public places such as schools, focusing consistently on outreach, supporting the leadership of the church, and planting at least one church during the first years of existence.
Churches plant churches, and NAMB clearly states that its mission is to assist churches in planting other churches. Aaron Coe, vice president for mobilization at NAMB, said the Send North America initiative is a strategy to mobilize and assist churches and individuals in hands-on church planting in 29 major cities throughout the United States and Canada.
"People who study missions would say to effectively penetrate an area with the gospel you need one church for every 1,000 people in the urban areas and one church for every 500 people in the rural areas," Coe said.  According to this model, most churches would be small- to medium-sized congregations. Some areas of our nation could be regarded as unreached people groups because born-again Christians represent less than 2 percent of the local population.
Not all church plants will grow to become large churches. Most will not. According to the Hartford Institute for Religion Research, most American churches have 80 or fewer in attendance each week. Southern Baptists are a denomination of small churches, each capable of planting other small- or medium-sized churches. We need healthy existing churches that can plant evangelistic and disciple-making churches.
While Leadership Network, which includes several denominations, has stated that about 68 percent of church plants are still in existence after four years, NAMB president Kevin Ezell stated in 2013 that "80 percent of the class of 2010 [SBC] church plants are still ministering today." If those numbers continue to hold true, it will put Southern Baptists ahead of the curve, even though many more healthy churches need to be planted.
With more than 70 percent of Southern Baptist churches in North America either declining or plateaued, the need is obvious: We need more churches, and we need revival or revitalization in most of our existing churches.
In 2016, Portable Church reported that 65 percent of the U.S. population had no real church connection but that 47 percent of America's unchurched would be willing to attend church if they were invited by a friend. Also, LifeWay Research noted that a trend in recent years to omit the name of the denomination in a church's name may not help attract new members. In the 2015 survey, Southern Baptists had a 49-percent favorable rating among those responding. Scott McConnell, vice president for research, said, "Just because someone has no religious preference does not mean they have closed the door to the Christian church or a denomination as being something that can meet needs in their lives."
People reach people through building relationships and sharing the gospel. In fact, research indicates that the most effective way to attract new members is by word of mouth and through personal relationships. We need healthy existing churches, and we need many new church plants to reach more people for Christ.
NAMB is focused on helping churches plant other churches. So are the Southern Baptist Convention and the South Carolina Baptist Convention. The need is clear, and the way to move forward successfully is also clear. Matthew 9:36-38 says, "And seeing the multitudes, He felt compassion for them, because they were distressed and downcast like sheep without a shepherd. Then He said to His disciples, 'The harvest is plentiful, but the workers are few. Therefore, beseech the Lord of the harvest to send out workers into His harvest.'" Any movement of God among His people will be grounded in prayer. If a great movement of God comes in this country, it likely will involve a high percentage of committed lay people. The Hartford Study reported that the more involved lay people were in reaching new people, the more likely a church would grow. For churches where laity were "involved a lot," the church was 90 percent more likely to grow.