Dena Riley was thrilled when she and two others attended a South Carolina Baptist Convention "Heart 4 Schools" seminar last year.
First Baptist Church of North Augusta, where Dena serves as director of children's ministries, already had a relationship with area schools, providing shoes for students through a Laces of Love project. The Heart 4 Schools seminar opened her eyes to all the possibilities for the church to intersect students and their families.
"Through Laces of Love, we already had a relationship with schools near our church and those six or seven miles away," Dena says. "We knew the schools. After we had attended the seminar, we began praying for God to show us which school we could begin to serve more deeply. Clearwater Elementary is a Title 1 school, with 90 percent of its students on free or reduced lunches. It became clear that's where we should begin."
Logically, it didn't make perfect sense. North Augusta First Baptist has three or four schools very near the church campus, and one school practically in its backyard. Clearwater Elementary, no matter what route is taken, is at least five miles from the church campus.
"That's a long way when you consider four other schools are within three miles of us," Dena says. "But through our involvement with Laces of Love, God introduced us to Clearwater. We began praying about our involvement there. None of us had a child at the school, but our prayers led us all to the same conclusion: We can help them."
A visit with school principal Trey Laube began with this question, "How can we help your school?"
"We honestly said, 'We have prayed about this, we want to help your school, and how can we help your school?'" Dena says. "It's so important not to have an agenda, but to be open to what the school needs. Trey surveyed the teachers and came back with so many needs that he said anything we could do would be appreciated."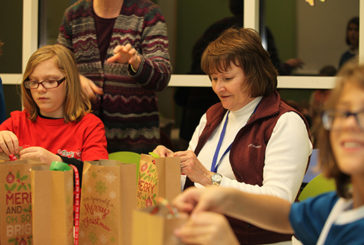 The first project was to provide take-home food bags of non-perishable items for students and their families. A local food bank was providing this service; but as funding was cut, the level of service was cut as well. First Baptist North Augusta stepped into the gap.
Volunteers at the church rallied to provide funds for the food or to help pack the bags. Children's Sunday school classes got involved with helping, too. Clearwater's students took home the bags on weekends and over the holiday break last Christmas.
First Baptist's ministry with Clearwater has grown to include:
• A presence at every day of the school's registration, providing bags filled with some school supplies and free socks. Having a place in the school library during registration allowed for a presence that communicated: "We are here to serve."
• Every Wednesday, at 8 a.m., members of the church (maybe it's just one) stand at the school's flagpole, regardless of the weather, and pray for students, staff and teachers. Principal Trey has allowed a prayer request box in the teacher's lounge, and requests have grown to so many that the church keeps them in a prayer book.
• The church provided set-up volunteers to help with the school's Boo Bash at Halloween and also helped with the school's Santa Shop. On the last day before Christmas break, church volunteers came to the school and provided school supplies and a small gift to students. Teachers were also recognized.
In the future, the school plans to hold a science day about every four to six weeks for older students, and there will be support for a STEM (Science, Technology, Engineering and Mathematics) day. First Baptist volunteers will help with the science day and also provide mentoring and reading assistance to students and classes.
"We started with some small steps, and we know from Scripture how God blesses and multiplies those steps," Dena says. "We are reminded every time we serve that God fed 5,000 with loaves and fishes." The Clearwater ministry also claims Psalm 60:12 (NIV): "With God we will gain the victory, and he will trample down our enemies."
First Baptist has more than 25 of its members involved at one time or another in a project with Clearwater. In addition to that, children's Sunday school classes and children's church have helped pack school supplies. Ladies groups and adult Sunday school classes have stepped in to provide donations.
"We have been blessed by the support of our senior pastor, Ryan Pack, who believes in our people getting beyond the walls of the church," Dena says. "To that, we have been blessed by the cross-generational support of church members. We expect this missional ministry to continue to grow."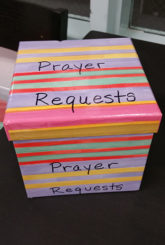 Riley encourages leaders to pray over which school God wants the church to adopt and then schedule a meeting with the school principal, asking only, "How can we help your school?"
In December, North Augusta's partnership with Clearwater Elementary was recognized in a story appearing in the Aiken Standard, Aiken's daily newspaper.
For more information on the state convention's Heart 4 Schools and how to get involved, contact Lee Clamp 803-765-0030 or email him at leeclamp@scbaptist.org. To speak with North Augusta's Dena Riley for ideas and encouragement on school adoption, contact her at 803-279-6370.