Trained literacy missions volunteers from South Carolina and neighboring states are partnering to reach Syrian refugees through a 10-week pilot language project anchored in Europe. Former missionaries and members of the National Literacy Missions organization collaborated to develop the curriculum and volunteer base, which is staffing the five teams serving onsite.
Bob* and Anne*, former international missionaries and members of First Baptist Church of Spartanburg, say the project idea was born from their desire to help meet the strategic needs of workers reaching refugees in Europe and the Middle East. The project gained traction in January 2017 at a National Literacy Missions conference, when the couple connected with Tim* and Mary*, literacy missions coordinators out of Virginia. This partnership provided the critical element of linking trained language teaching volunteers to the project, and the means for evaluating whether successful language teaching strategies used in the United States could also work in situations abroad.
"We used what we know from our years in the field and have developed a more structured English-as-a-Second-Language class format. We also wanted to develop something that required minimal management and oversight by the workers," Bob says.
Tim and Mary helped recruit language instructors for the project that have trained ESL leaders in the local church and have a passion for international service. "Those involved in literacy missions in the United States are excited to transfer what they do here to refugee work. The literacy effort is part of a great move of God himself; it's not a little project that we intend to insert into the lives of the refugees to make their lives better," says Bob.
Mary agrees, adding that coordinating this project has opened her eyes to the extent of how God has been working in many ways related to the refugee crisis. "God has resources that we often don't see or understand but brings them together for His purposes," she says.
Dot Whitmire is a literacy missions consultant with the South Carolina Baptist Convention who, with her husband, Ron, helped launch the project with their trip in April. The experience proved to be life-changing for the seasoned teacher and trainer, who says God quickly removed her initial fear of the unknowns with serving refugees.
"We found them to be the kindest, most gracious people. They expressed their love and appreciation and would say to us, 'Thank you for you, teacher,'" she says.
The Whitmires arrived at the refugee training location prepared with a 10-day curriculum and teaching goals. Prospective students were invited to the English classes by workers already living at the location who had been making contacts in the refugee community through food distributions. While Ron worked with individuals on conversation skills one-on-one,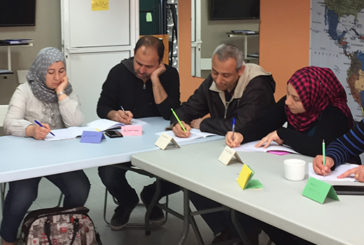 Dot taught three basic English classes to roughly 30 students.
While their time in the country was short, the Whitmires were able to make some personal connections. One Muslim family invited the couple to visit in their apartment and entertained the Whitmires with homemade cake. They also heard difficult, personal stories while getting to know the students, including family separations, living in refugee camps, and the painful burden of their uncertain future.
"One day we played a language game to learn how to introduce family members. I invited one lady up to use as an example and introduced her as a daughter, which she responded to so well. Relationships were just beginning as it was time for us to leave; I wish we'd had more time to talk with the people," Whitmire says.
With a few weeks still left in the project, Mary reports that the teams are making progress. "We've worked to have consistency from team to team, and that's turned out to be a good strategy. Even though students get different teachers every two weeks, they are receiving continued training," she says.
Technology has provided real-time updates between the volunteer teams and stateside coordinators. This open communication has helped to make some adjustments and evaluations during the project.
"We are also getting ongoing input from our teams to see if it's plausible to reproduce this. It may become a strategy that could fit into many places in the world, not just with refugees," says Bob.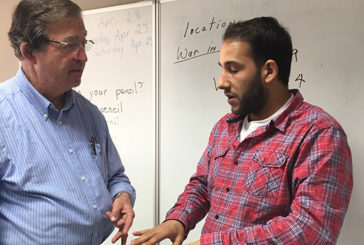 In fact, Tim and Mary say the planning team has identified four international sites where this project could potentially be replicated. They say the literacy networks from five states have been engaged, so leaders from those states can help identify a larger pool of teachers. Another dream is to have many teams in the field at one time.
According to Bob and Anne, South Carolina Baptists can partner with this project through ongoing prayer for the short-term teachers and long-term workers in the field, for relationship building, and that there will be opportunities to share with students. Individuals interested in serving on projects like this in the future are encouraged to receive literacy training through the South Carolina Baptist Convention and may find more information online at www.scbaptist.org.
For Whitmire, her literacy work abroad still translates back home. "We have refugees here in South Carolina. I encourage people to open their hearts and not be afraid of people. There's a reason why God is allowing this to happen to Syrian refugees, and He is sending them into places where they can hear His Word. And when you teach people, you can't help but love them," she says.
*Names have been changed.
— Julia Bell writes for the South Carolina Baptist Convention.