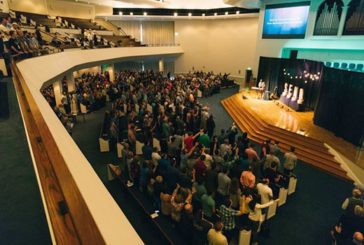 With a reported 2 billion people across the planet with little or no access to the gospel, South Carolina Baptist pastors and staff members met to discover how they can lead their churches to send people across the street and around the world to share the hope of Jesus. About 800 participated in IMPACT 2018, held Feb. 22 at Riverland Hills Baptist Church in Irmo.
The one-day event hosted speakers Jimmy Scroggins and J.D. Greear, worship led by Thomas Keys III, and about 40 breakout sessions centered around themes of serving, starting, sending and sharing. Breakout content was designed to ignite a passion in participants to discern where God may be leading to move in their church and community. Some fleshed out ministry ideas, and others became equipped with the right tools for their next steps.
Levi Wright came to IMPACT with a college ministry group from Shandon Baptist Church in Columbia. The junior in international studies at the University of South Carolina says he plans to pursue ministry and is open to church planting; some IMPACT breakout sessions left him feeling more confident about where God might lead him.
"I attended one session on 'living sent as a friend of sinners,' which was encouraging and helpful for me in college right now. I also learned to be more intentional in relational evangelism  through my posture, proximity, and patterns of speech," Wright said.
Gary Hollingsworth, executive director-treasurer of the South Carolina Baptist Convention, welcomed participants by leading them in small group prayer, asking them to invite God to speak something intentional and specific into the heart of each individual.
"I pray that this would not just be a conference, but that you would be changed. As you return to your mission field, what will it be that you have heard from the Lord about your next steps of impact," he told participants.
Scroggins, pastor of Family Church in West Palm Beach, Fla., described his message during the morning worship as a time to speak into the heart of leaders. He challenged pastors with a quote from tennis player Arthur Ashe: "Start where you are, use what you have, do what you can."
"We should also train our churches to start where they are, do what they can, and with what they have. We need hundreds of thousands of Christians having gospel conversations every single day to reach the state of South Carolina. Jesus is the multiplier," Scroggins said.
Gospel conversations happened in the "Gracism" breakout session, described as a time to learn how to reach and show favor to those on the margins of society. Leader Philip Pinckney, pastor of Radiant Church in North Charleston, helped participants wrestle with definitions of racism, grace, and the merging of the two. He challenged churches to embrace an active love that involves honor, submission, and truly listening to others. Discussion was encouraged, and one participant asked if minority churches wrestled with how to reach out to those outside of their race as much as all-white congregations do. Jim Johnson, pastor of Gethsemane Church in Summerville, was sitting next to John Fry, who asked the question, and the two continued their discussion after the session ended.
"I am a Christian first, and I happen to be black. I am a pastor of a predominantly white church. We should be intentional to share the love of God and respond as He calls us to. This session made me ask myself what I can do better," Johnson said.
"I attended the session because I wanted to learn about reaching those living in the margins. Philip Pinckney read 1 Corinthians 12:18-25, and especially verse 23, and I plan to read that further because I do want to bestow honor on others," says Fry, a member of Restoration Community Church in Hanahan.
Jon Jamison, SCBC compassion ministries strategist, helped participants of one breakout session explore practical ways to really reach a community. Jamison explained the importance of putting down roots in a community and building relationships that lead to effective ministry. English-as-a-Second-Language classes can reach international communities, and Jamison suggests that churches contact firefighters to discover untapped local needs.
Following the learning sessions, participants gathered for worship and a message from Greear, pastor of The Summit Church in Durham, N.C. He spoke of the critical need for every believer to reach the lost with the gospel message and for equipping people to be disciple-making disciples in the community.
"The call to leverage your life for the Great Commission was included in the call to follow Jesus. The question is no longer if you are called; it's now where and how you are called. Whatever God has made you good at, you're supposed to do it well for the glory of God, and then do it strategically for the mission of God," says Greear.
IMPACT participants were also formally introduced to Advance, a defining process through which strong churches make disciples who start new work, serve needs, share the hope of the gospel, and send workers who go on to start new work. Advance happens through SCBC ministry partnerships, where teams offer relationships, ideas, opportunities, and tools to help churches across the state advance in Great Commission fulfillment.
IMPACT 2018 provided a seamless launch for the message of Advance, which is that every South Carolina Baptist church might aggressively fulfill the Great Commission so that every life may be saturated and transformed by the hope of the gospel.
For related resources from IMPACT, download the "IMPACT2018" app, or visit www.scbaptist.org/impact. For online information about Advance, visit www.SCBCadvance.org.
— Julia Bell writes for the South Carolina Baptist Convention.