Having a pantry is essential for eating healthy and is also important for getting real food on the table. It helps you stay on your budget and it takes the stress off because everything you need to make healthy meals is in your pantry. Each recipe I will be doing will be from this pantry, which will have enough for three months of cooking before restocking (I use Tupperware for storing my pantry items). You can also take your own recipes and make them healthy by using the dry pantry.
May God bless!
Psalm 30:5: "Joy comes in the morning"
Dry Pantry
Baking powder (without aluminum)
Baking soda
Brown rice (organic)
Diced pimentos
Dried beans (organic)
Extra light olive oil
Fresh garlic (organic)
Fresh sweet potatoes
Homemade granola (see recipe below)
Apple cider vinegar (organic)
Peanut butter (organic)
Popcorn (organic)
Raw local honey
Sweet Vidalia onions (USA grown)
Red onions (USA grown)
Tomatoes (organic and USA grown, or home-canned — canned whole, sauce, and paste)
Whole rye berries (organic)
Oat groats (organic)
Whole wheat berries (Golden 86 organic or chemical free — white winter wheat)
Yukon Gold potatoes
Yeast
Spices and Natural Flavorings (all organic)
Almond extract
Basil
Black pepper
Chili powder
Cinnamon
Dry mustard
Garlic powder
Ginger
Lemon flavoring
Nutmeg
Onion powder
Oregano
Paprika
Parsley
Sea salt
Vanilla extract
A Dry Pantry Recipe: Granola
Rather than buying cereal from the store, I make my own homemade granola:
4 cups oats
1/2 cup wheat germ (see note below)
1/2 cup coconut
1/2 cup each, almond pieces and sunflower seeds
1 teaspoon vanilla
1/2 cup olive oil
1/8 cup water
1/2 cup honey
In a medium bowl, mix wet ingredients together. In large bowl, mix dry ingredients together. Add wet ingredients to dry and mix well.
Pour onto an ungreased cookie sheet and bake at 350 degrees for 20 minutes, stirring every 10 minutes.
Reduce heat to 250 degrees and continue to cook until lightly browned (watch closely!). Remove from oven. When cool, store in an airtight container.
Note: For homemade wheat germ, grind wheat with grinder at a coarse setting. Sift through a small mesh strainer, allowing the flour to fall into a bowl. What remains in the strainer is the germ. Save flour for other uses.
---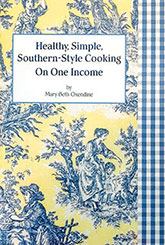 To order Mary Beth's cookbook, or for more recipes, videos or information, visit MaryBethsKitchen.com.