When it comes to the decisions to be made when someone dies — burial or cremation … whether the receiving of friends will be held the day before or the same day as the funeral … if there will only be a graveside service — ministers in South Carolina largely agree that the needs of the bereaved family should come first in the planning process.
Also, according to responses to a Baptist Courier questionnaire, pastors and church staffers believe more can be done to effectively minister to mourners, many of whom continue to grieve long after the funeral is over and friends have departed.
Most respondents noted that the practice of receiving friends and having the funeral on the same day has been on the rise in recent years. Possible reasons include busier lifestyles, lower costs, accommodation of out-of-town family members, and less stress on tired and grieving family members, respondents said.
Bill Parnell, minister of senior adults, older singles and missions at Concord Baptist Church in Anderson, said having a one-day visitation/funeral service can be easier on the family because it requires getting everyone together only once. But it can be a disadvantage for working people, he said, who might not be able to get off work for an afternoon visitation/funeral.
Al Smith, pastor of Pinecrest Baptist Church in Charleston, said a long visitation "can wear out a family, even though it is good to see people." The decision should be up to the family, he added. "Remember, we are trying to fulfill their wishes."
Retired pastor Danny Settle, who served in church work for 42 years and retired in 2017 as minister of education at Laurel Baptist Church in Greenville, said holding visitation and funeral services on the same day "seems to lessen the importance of the deceased person's life." But circumstances, including physical limitations of the next of kin, "play into this type of decision," he said.
Terry Scalzitti, lead pastor of Ocean View Baptist Church in Myrtle Beach, said some people "don't want things to drag out, while others want to keep the reflections going." "It's personal choice."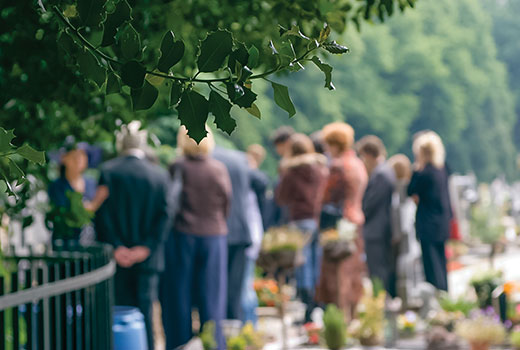 As with same-day visitation and burial, some pastors noted an increase in the frequency of graveside-only services, particularly in situations where the deceased is unchurched or may have lived most of his or her life elsewhere. 
Regarding the question of burial or cremation, most respondents said there is no specific scriptural prohibition against cremation. While some pastors voiced their preference for burial ("I believe there is something to the act of burial that helps people let go of the loved one"), another noted the "sticker shock" associated with burial services and stressed again the importance of honoring families' wishes. (To read more about cremation versus burial, see "The Choice: Burial or Cremation" on page 7 of this issue.)
Several respondents talked about the need for extended post-funeral care on the part of the church.
Alan Woodward, pastor of Canaan Baptist Church in Cope, said churches and communities should follow up for "days, weeks and even months after the funeral" in order to assist with the long-term healing process for bereaved families. "The real healing begins after the funeral," he said.
Eric Alldredge, pastor of Mt. Zion Baptist Church in Pamplico, said the church "needs to come alongside [grieving families] and be there to comfort and pray for them as they go through this process."
Bert Welch, interim pastor of Holly Hill First Baptist Church, suggested that churches should develop an intentional comfort and care ministry that "goes beyond the chicken lunch" and doesn't leave the task to the deacons or the pastor alone.
"There is no set formula or timetable to handle grief," said Dan Taylor, minister of senior adults and pastoral care at Simpsonville First Baptist Church. "The 'valley of the shadow of death' casts its darkness over each one, but there is a shepherd who gives light for that journey, and a people of God who are charged to bear the burdens of those who walk through that valley."
Bill Westafer, pastor of Cowpens First Baptist Church, said "those who are left behind" may be dealing with bills, death notices and an empty house. "They need the comfort and reassurance from friends and the church to help sustain them in their time of transition," Westafer said. "Everybody wants to be there when the potato salad is being served, but who is there to wash the dishes?"
Another pastor suggested that churches consider providing more support for caregivers whose loved ones have a terminal illness. "Long-term care-giving is extremely difficult, and the church needs to come up with creative ways to help." (A retired pastor who also has worked for a funeral home predicted that the spiritual role of the hospice chaplain will continue to increase as more people are dying in hospice facilities.)
Still another pastor suggested that churches work on a program of "continuing visitation" after the funeral and offer grief counseling.
Jim Thomason, pastor of Anderson First Baptist Church, has led about 700 funerals during his 23 years there, a large number of them for members of what he calls the "GI Generation" of military veterans. "It has been an honor and privilege to hear their stories, celebrate their lives and bear witness to the hope we have in Christ," he said.
Thomason said that helping families take the final walk with their loved ones is an important ministry for pastors, and doing it justice "takes far more time than most people realize."
Brenda Atkinson, continuing care coordinator for Thomas McAfee Funeral Homes in Greenville, told the Courier she fears the busy-ness of modern times has stripped away something important in the communal experience of death and dying. "It is our privilege as Christians to walk people all the way home, but people don't go to cemeteries anymore," she said. "In some ways, the church has followed society, when it should be the opposite."