There are three other areas to include in a pantry. The refrigerator and the freezer are the cold pantries. Also, there is a fresh fruits pantry — it can be in your refrigerator or the freezer, or on the counter in your kitchen. All of the pantries complete how we stock our healthy food, and it is cheaper than any other way of eating.
May God bless!
Proverbs 31:15: "She gets up while it is still dark; she provides food for her family"
Refrigerator Pantry
Broccoli
Butter
Cabbage
Carrots
Celery
Cheese (cheddar, Amish yogurt cheese, Amish Cream Havarti and Parmesan)
Cucumber
Fresh spinach
Green and red bell pepper
Green and red leaf lettuce
Green beans
Half-and-half without sugar
Mayonnaise
Mustard
Organic eggs
Pure maple syrup
Skim milk
Tomatoes
Vanilla and plain yogurt
Yeast
Yellow squash
Zucchini
Okra
Freezer Pantry
Almonds, walnuts and pecans
Unsweetened-unsulphured coconut
Frozen black-eyed peas, okra, baby lima beans, green beans and peas
Fresh frozen blueberries, peaches and strawberries
Whole wheat bread crumbs
Frozen beef broth
Frozen chicken broth
Fresh Fruits Pantry
Grapefruit
Apples
Cherries
Bananas (green-stemmed)
Oranges
Lemons
Grapes
Bananas
Cantaloupe
Watermelon
Strawberries
Blueberries
Plums
Peaches
Note: I buy fresh strawberries and blueberries from area farms in the summer and freeze them myself. The bread crumbs are my leftover bread ground up and put in a freezer bag. I try to buy as much American organic produce as I can find.
A Fresh Fruits Pantry Recipe: Fresh Fruit Cup
Take any fresh fruit that is in season at that time of year and toss together.
2 fresh peaches, sliced
¼ cup organic vanilla yogurt
¼ cup organic fresh coconut
Optional: ¼ cup walnuts or pecans
---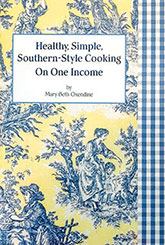 To order Mary Beth's cookbook, or for more recipes, videos or information, visit MaryBethsKitchen.com.