I believe Sunday is a wonderful time for enjoying our families and friends. I want to share with you something I do while I am cooking. It is called "Praying Stop Sign to Stop Sign."
Pray for everyone on your street and for the salvation of their households! Pray from the stop sign on the left side of your house to the stop sign on the right side of your house. Also, pray that God would raise up someone on the other side of the two stop signs to pray on their street until all the streets in your city, county, state and nation are being prayed for! The idea is simple but powerful: Be a house of prayer!
"My house shall be called a house of prayer." — Matthew 21:13
May God Bless!  
Crock-Pot Chicken
Today I am sharing with you a recipe from my pantry. This meal is wonderful because you can use it for Sunday dinner. It is a Crock-Pot chicken meal.
Use from your stocked pantry:
1 packet Good Seasons Italian salad dressing
Bragg organic apple cider vinegar 
Bertolli extra light organic olive oil
Follow the directions on the back of the salad dressing packet (mix all three ingredients in a jar, shake, and pour into the Crock-Pot). 
Add a 16-oz. bag of Cascadian Farm organic cut green beans. (You can find these in the freezer section of your grocery store. I shop at Ingles, and they always have Cascadian Farm organic products in stock.) 
Next, add a package of Springer Mountain Farms chicken breasts (six boneless, skinless breasts, individually wrapped).
Wash three or four Yukon Gold potatoes, cut them into quarters (do not peel) and put into your Crock-Pot. 
Cook on low for four hours. Serve with a plate of sliced tomatoes and cucumbers.
---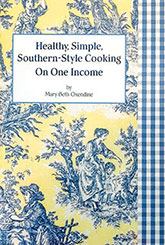 To order Mary Beth's cookbook, or for more recipes, videos or information, visit MaryBethsKitchen.com.