Angie Keene, who volunteers as a small-group leader in her church, remembers how uncomfortable the teenage girls in her discipling group seemed to be when she asked them to share their testimonies.
"All of their stories sounded the same," said Keene. They all were raised in church and accepted Christ at a younger age and were baptized. One of my girls said she remembered doing it because she didn't want to disappoint her mom. Two of my girls said they never remembered the Holy Spirit convicting them of their sins — ever. Weeks into our study of Romans, two of my girls dealt with conviction for the first time. They wanted a relationship with Jesus, not just the status of being a Christian."
In her DGroup (disciple group), Keene said she pushes the girls to hold each other accountable as Christ-followers, and she wants them "to be comfortable leading one another biblically instead of culturally." She meets weekly with her group to talk, share prayer requests and discuss Scripture, and the girls regularly get together on their own. "I encourage them to talk to one another about anything," said Keene.
"The time I spend each week with these kids means so much to me," she said. "They have become family. I feel that DGroup is very important in the lives of our kids. It is a relationship they each need to help keep Christ first during their teenage years."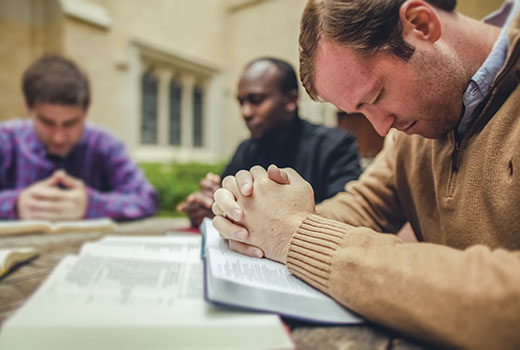 Whatever the process is called — DGroup, D2, Immersion, NextGen, Milestones, or one of several other names — it would seem that personal, accountable relationships are central to the act of imparting the tenets and practices of authentic faith-living from one Christ-follower to another. While those relationships may take the form of one person discipling another, many churches have found that disciple-making blossoms in small-group settings — through biblical teaching, of course, but also through the shared human experience of mutual encouragement and accountability.
'Depth leads to breadth'
"I've come to the conclusion that discipleship is actually about presence," said Hank Williams, pastor of Boiling Springs First Baptist Church. "It's being in the presence of Christ, which we do through prayer and inductive Bible study, but also by being present in one another's lives."
As believers grow in the presence of Christ on a daily basis, Williams said, they become God's presence within a community of believers through their discipling of other believers. Ultimately, they become Christ's presence in their community and culture, "where we're actually living that evangelism lifestyle and having gospel conversations. That's really what a disciple looks like."
Several years ago, Williams, 59, started a disciple-making process in his church called D2 (pronounced "D-Squared"). For one year, he led staff members in an intentional discipleship process. At the end of the year, those staff members led deacons and other church members in the same process. Every person who went through the process was expected to continue discipling others using the D2 process.
"We disciple to be disciplers," said Williams. "So, the commitment for anybody going into this journey is that you're becoming a discipler for the rest of your life. You're going to be in a discipling relationship with somebody for the rest of your life."
Williams said D2 is not so much a curriculum "or checking boxes off" as it is "a way of life." The process covers everything from the "basics" of following Christ (including prayer and Bible study) to more advanced material, including a life- and vocational-planning tool called "The Tip of the Spear."
Williams estimates that hundreds of his church members have now completed the process and are engaged as disciple-makers. "Our hope is that at some point everyone [in our church] can say — if they want to and are willing to — that they've been through an intentional discipleship process."
Williams said some of his church members are now in their "fourth generation" of discipling someone else, and he marvels to see the difference in their lives. Williams himself continues to disciple individuals in his church and admits that in every instance he grows "as much as they do."
His church has grown in membership, but Williams said thinking about discipleship as a way for a church to become larger is a wrong perspective. Instead of thinking about numbers, "it's about how deep we go," he said.
"The deeper we go, the wider we're going to have an influence. Our spiritual depth as disciples leads to the breadth of our influence. We will grow, we will reach people, if we're growing deeper in the Lord."
In a preface to one of the church's discipleship workbooks, Williams challenges the reader to be a "discipler for life."
"Imagine that there would never be another season of your life when you were not in a discipling relationship," he writes. "Your understanding of following Jesus will be ever-expanding. You will have a front-row seat to seeing the transformational power of Jesus in the lives of others."
A map for the journey
At Anderson Mill Road Baptist Church near Spartanburg — "The Mill," to people who fellowship there — a Family Ministry Journey map helps illustrate an approach to developing disciples by identifying key events, stages, transitions and mile markers along a person's life journey.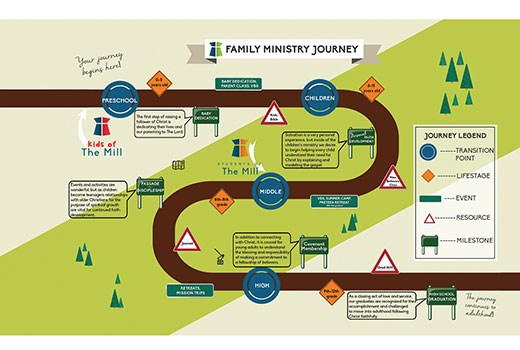 For instance, the map for students starts at birth and culminates with high school graduation and the commencement into adulthood. The steps along the way include baby dedication and parent class, personal faith development (salvation and the basics of faith) and passage to discipleship (spiritual growth and faith development). Integral to the passage to discipleship is the small-group dynamic. The purpose of the small groups, called "DGroups" at The Mill, is to "take a student further and deeper into a process of discipleship," said Jarrett McNeely, minister to young families.
DGroups, led by adult volunteers, begin in middle school with the basic disciplines of the faith — including prayer, quiet time, Scripture memorization — in an accountability format. By the time a high school senior has moved through the progressive levels of DGroup experiences, he or she will hopefully have developed to the point of leading others in becoming a disciple. The next step is "covenant membership" in the church.
"We have a covenant membership process for all adults and students," said McNeely. "We have a page that explains what The Mill stands for and what our vision and purpose is. When a person joins as a member, they sign actually sign it, and that is the act of becoming a member."
McNeely said the process helps students and young adults know what the Bible says about being a part of the body of Christ and to "fully understand that they [in addition to adults] have a huge part to play in the church." He said the membership covenant, by "driving home what their purpose is in the church," also instills in younger disciples an understanding of their need to stay connected to church after they graduate from high school.
"I really believe that we will see our students, when they leave high school, if they go on to another city or another place for college, will find a church they can serve in because they have gotten that foundation of what their purpose is as the body of Christ."
The membership covenant also serves to break down the age- or generational-specific "silos" in which churches may find themselves operating, McNeely said. "We're trying to incorporate everybody into the fabric of what it looks like to be at The Mill," he said. While acknowledging that some roles, including deacon, are limited to adults, he said the church's "inclusive form of discipleship" makes it possible for students to serve in many of the same capacities that adults do.
The small-group dynamic at The Mill extends beyond the student experience. Small groups are a vital part of relationship-building and spiritual growth for adults in the church, McNeely said.
Deep-diving into discipleship and evangelism
So where does discipleship and, by extension, evangelism, break down in most churches?
Lee Clamp, in collaboration with about 200 pastors in South Carolina, has identified three primary barriers that keep individuals from sharing hope with the lost:
No relationships with lost people;
A lack of discipleship by those who share their faith; and
A fear of gospel conversations.
"We believe that discipleship begins with a lost person. Therefore, evangelism is not separated from discipleship but is a vital part of the disciple-making process," said Clamp, evangelism team leader for the South Carolina Baptist Convention.
An SCBC process called "Immersion" is an attempt to help pastors "rekindle their own personal fire" in building relationships with lost people and being intentional with them in a disciple-making process, Clamp said. By taking part in the Immersion training and process, a pastor will have "street cred" to raise the expectation that all of his church leaders do the same, he said.
Immersion begins with a two-day experience where leaders dive deep into a relational small-group environment for the duration of the training. Some leaders will return with other leaders for enhanced training and mentoring focused on making progress in becoming a Great Commission church.
Stephen Splawn, the SCBC's Immersion coordinator, said the first experience, "Immersion 101," starts off by shifting the perspective from "doing discipleship" to "being a disciple-maker personally" in one's own "Jerusalem."
The 201 experience "raises the bar" of disciple-making to leading others through an experience of "heart change, where they can hear God clearly speaking to them," and in a way that is repeatable. "We walk through practical and biblical ways to pour into the next generation of disciples so they can also be disciple-makers," Splawn said.
The next Immersion 101 and 201 training will be Sept. 24-25 at The Cove in Asheville. For information, visit SCBaptist.org/immersion.
Markers along the way
Another discipleship process under development by the South Carolina Baptist Convention is "Milestones," which is expected to roll out in 2019.
The process identifies the key elements — or milestones — every believer should reach in his or her walk with Christ, said Steve Rohrlack, SCBC team leader for church strengthening and discipleship.
"What does a fully devoted, healthy believer look like?" said Rohrlack. "We started with that end goal in mind and then cast that all the way back to preschool, identifying some spiritual markers along the way.
"For an awful lot of the churches, they've really not identified the core doctrines that an adult needs to know. So, the end result of that is, we're really teaching our adults at a preschool or an elementary school level.
"So, if we can help churches establish an understanding of what those big rocks are, what those milestones are, and then help them establish a process for getting there, then ultimately what we've done is develop people to be more spiritually mature."
Until the process is ready for release next year, Rohrlack said he or anyone in the SCBC Generations Group welcomes the opportunity to talk with any interested church leader about Milestones.
Resources
bsfbc.org
churchatthemill.com
scbaptist.org/immersion2017
scbaptist.org/generations
scbaptist.org/evangelism
Or email: steverohrlack@scbaptist.org