"Do not forget to show hospitality to strangers, for by so doing some people have shown hospitality to angels without knowing it." (Hebrews 13:2)
Summertime is a wonderful time to eat outside, and picnics can be anywhere. When my children were young, we would have dinner on our picnic table. The recipe I am going to share with you is a new summertime picnic meal. What my family remembers are simple times eating on our picnic table and playing in our yard after dinner. We would do these dinners with cousins and friends, then after dinner the children would enjoy catching fireflies and playing ball while the adults would talk at the picnic table or on the porches. Dinners like these are fun for everyone and a wonderful way to bless neighbors, family and friends!
My Summer Chicken Salad is a healthy meal with high protein. Chicken is the meat that has the highest amount of protein when compared with other meats. A chicken breast has 31 grams of protein and is rich in vitamins and minerals. Another healthy component of my summer picnic meal is watermelon, which is made up of 92 percent water and has significant levels of vitamins A, B6 and C, as well as lots of lycopene, antioxidants, amino acids and potassium.
May God Bless!
Summer Chicken Salad
2 cups cooked Springer Mountain Chicken, shredded
1/4 cup diced celery
1/4 cup dried cranberries
1/4 cup sliced almonds (Ingles carries these in the produce section)
1/3 cup organic mayonnaise
1/8 teaspoon pepper
1 tablespoon fresh parsley, minced
1 teaspoon mustard
1 tablespoon fresh lemon juice
Leaf lettuce and spinach leaves
Combine everything in a bowl and mix. Cover and refrigerate for one hour, then place on a bed of lettuce and spinach. Serve with half slices of watermelon (leave skin on). This meal will be great outside on a picnic table.
---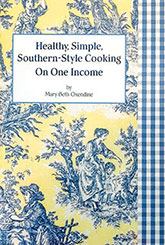 To order Mary Beth's cookbook, or for more recipes, videos or information, visit MaryBethsKitchen.com.