Fall is here, and children have gone back to school. Soon the evenings will be cooler, and football Fridays are back! So, of course, I have to pull out my recipe for vegetable soup and corn bread. Luckily, we can still go to our vegetable stand and get fresh corn, okra and Vidalia onions. (Cooking tip: When you buy your Vidalia onions, wrap them in a paper towel. Then put as many of them as you can fit into the vegetable drawer of your refrigerator, and they will last all winter; do not peel until you are ready to use them.)
Those who read and meditate upon the Word of the Lord know His heart in a unique way. True joy comes through a relationship with the Father.
May God Bless!
"For the joy of the Lord is your strength." — Nehemiah 8:10
Southern Vegetable Soup
2 14-oz. cans organic diced tomatoes 
2 cups water
1 fresh ear of corn (white or yellow), cut off cob
1 cup fresh okra, chopped
1/2 cup Vidalia onion, chopped
1/2 tablespoon olive oil
1 carrot, sliced
1 clove garlic, chopped
2 teaspoons salt
1 Yukon gold potato, peeled and chopped
1 cup fresh or frozen green beans, chopped small
1/2 teaspoon pepper
1 stalk celery, chopped
Sauté onion and okra in olive oil in large pot. When lightly brown, add all other ingredients. Simmer for one hour. Check to make sure vegetables are tender. Serve hot.
Mary Beth's Healthy Southern Corn Bread
In the South, we love our corn bread, especially with vegetable meals. Here's a healthy version of a Southern favorite:
1 cup fresh-ground whole wheat flour
1 cup fresh-ground organic popcorn
2 teaspoons baking powder
3/4 teaspoon salt
1/3 to 1/2 cup honey
1 1/4 cups skim milk
1/4 cup olive oil
1 egg
Combine all dry ingredients and mix. Add the honey, milk, oil and egg, and mix until all ingredients are well combined. Grease muffin tins. Fill 2/3 full. Bake at 375 degrees for 18 to 20 minutes.
Makes 8 to 10 muffins (or you can pour into a cast iron pan).
---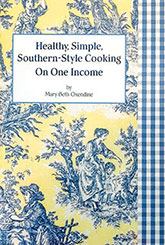 To order Mary Beth's cookbook, or for more recipes, videos or information, visit MaryBethsKitchen.com.