How to get the message across? Throughout his ministry, Bill Cox has depended on God for the answer.
---
How to get the message across?
That's the question dancing like heat lightning across Bill Cox's thoughts.
How to get the message across?
It's a persistent querying impulse, a waking thought that later might give rise to a creative flash — a song lyric … a line in a play … a bold slash of color on canvas … a new way to do an old thing.
How to get the message across?
It's the question Bill Cox has depended on God to answer every day for more than 40 years, since he first began employing the creative arts to share the gospel in churches and at youth retreats when he was a college student.
Today, at 65, Cox shows few signs of slowing down. His Concoxions ministry is gearing up for several weeks of "Seesalt" summer conferences, complete with original drama, music and Bible study — but that's not before he and his wife, Kathy, head off to Pigeon Forge, Tenn., in January to stage their annual "Chillipepper" winter student conference. Throw into the mix his "Art to Heart" chalk-and-drama presentations for churches, and it's clear that Cox is not done. If anything, the vitalizing urge to find innovative ways to share the gospel is as strong as it ever was.
"I think Bill's creative juices get going when he sees a show or something," said Kathy. "He'll think, 'Ooh, that would be a good platform to maybe do the message from this way or that way.' Those different things inspire him."
Walk into the commercial warehouse Cox rents in Spartanburg, and you will see the nuts-and-bolts stuff of his ministry — stage lights, scaffolding, control boards, speakers, props, signage — all neatly categorized and stored on heavy-duty steel shelves that climb to meet the 20-foot ceiling.
But it's not really about the cool tech or the thousands of details that go into staging a production. Sit across from him and ask questions about his ministry, and you will see Cox wipe away a tear when he talks about the people who told him their lives were changed at a youth rally or how the words of a song he wrote touched their hearts.
The ministry almost didn't get off the ground. In the early 1980s, he was youth minister at Taylors First Baptist Church in Greenville. As the youth group grew, Cox felt he needed to concentrate on either local church ministry or itinerant ministry, but that he would be stretched too thin if he tried to do both.
"I prayed and wrestled with the decision for a couple of years and eventually decided to put aside the crazy idea of starting a traveling ministry," he said. "I loved serving at Taylors First Baptist and was ready to stay there and let my soon-to-be new wife Kathy take good care of me. It was a safe and comfortable decision."
Shortly after making that decision, however, Cox was praying one night before going to sleep, and "out of nowhere" he sensed God saying, "It's time to go."
"It wasn't an audible voice, but it was loud and clear," he said. The next day, he shared his experience with his fiancée. "Kathy didn't need an all-night discussion with God," he said. "If that was what I thought God was leading us to do, she was ready to go."
"It wasn't easy in the beginning, and it's not easy now, but even in the toughest times I'm beyond thankful for the unexplainable privilege of serving God through what became known as Concoxions," he said.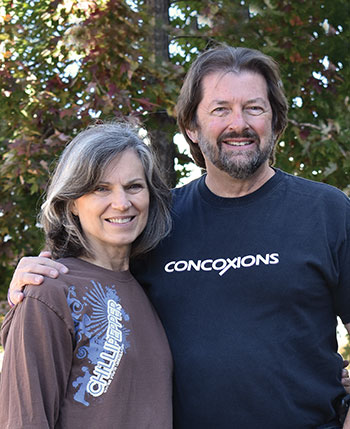 Over the years, the scope of the ministry expanded to include live theater (a 90-show run at Fantasy Harbour in Myrtle Beach and eight years of original productions at Concoxions Cornerstone Theatre in Lyman). At the same time, Seesalt events spread to college campuses and conference centers outside South Carolina. The Coxes' children — Christopher, Taylor and Shari — were born, and they became part of the ministry. Today the children are married and have careers and ministries of their own. A Cox family reunion — complete with six grandsons — is likely as not to take place at a football tailgate party at Furman University, where Bill, Kathy and all their children graduated.
A few years ago, Cox went into the summer thinking it might be the final season of Seesalt. Kathy knew what he was thinking, but no one else did, including the dozen or so college students who made up the actors, singers and production crew. After the closing Friday morning session, as students and their leaders were filing out of the auditorium, an unusually large number of people said things like, "You don't know how much this means to us. Please don't ever stop doing it." The father of a 3-year-old said, "You've got to promise me that you're going to keep doing this until she graduates from high school."
Cox was so struck by the similar-sounding comments that he slipped away to be alone. "I had to cry before I could even meet with the staff," he said, "because I was like, 'What's going on, God?' How do we stop doing this?"
As much as he was moved by the sentiments of the students and leaders that day, what he cares about more are the comments he hears from people 10 or 15 years later, including parents who tell him how much their kids were changed at a Concoxions event.
"It's not easy to discount that," he said. "We're not the only ones who can do [this kind of ministry], but I feel incredibly blessed that we found something we love and that God uses in a very powerful way to make a difference."
"That's what we want to keep doing."
---
To learn more about Concoxions, including Seesalt and Chillipepper student conferences and Art to Heart chalk presentations, visit Concoxions.com.