Today I want to start introducing you to superfoods. These superfoods are immune-boosting foods that give you health and longevity. The Lemon Blueberry Muffin recipe for this month has three superfoods in it.
Superfoods:
Lemons — give you Vitamin C and phytonutrients (limonoids). Laboratory studies have shown that limonoids, natural plant compounds found in citrus, may be toxic to certain types of cancer cells. A single ounce of lemon juice gives you 20 percent of the day's recommended Vitamin C. Also, Vitamin C helps your body to absorb iron.
Blueberries — a cup of blueberries meets a quarter of your daily Vitamin C, Vitamin K and manganese. Also helps with slower cognitive decline and can potentially aid in cancer prevention.
Whole wheat flour — gives you dietary fiber, protein, iron, phosphorus, zinc, copper, thiamine, niacin, folate, phytonutrients, lignans (which block hormones that may promote cancer). Diets high in whole grains have reduced risks of heart disease, obesity, and type 2 diabetes (only when you use fresh-ground wheat berries).
May God Bless!
"Why spend money on what is not bread, and your labor on what does not satisfy? Listen, listen to me, and eat what is good and your soul will delight in the richest of fare." — Isaiah 55:2
These muffins are high in protein, and they are great for breakfast or for snacks. I hope you enjoy them!
Lemon Blueberry Muffins
1 1/2 cups fresh ground whole wheat flour
1 tablespoon baking powder
1/2 teaspoon salt (sea salt)
1/4 teaspoon nutmeg (organic)
1/2 to 1 teaspoon lemon zest (fresh organic)
1 cup fresh or frozen blueberries (organic)
1/4 cup olive oil (organic)
1 egg (organic)
1/4 cup lemon juice (from lemon above)
1/4 cup water
1/3 cup honey
Mix dry ingredients, and then fold in lemon zest and blueberries. Add wet ingredients and mix lightly. Grease muffin tins with olive oil. Fill muffin cups 2/3 full. Bake at 350 degrees for 15-20 minutes or until lightly browned.
---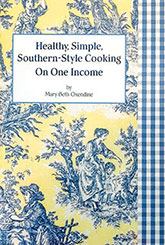 To order Mary Beth's cookbook, or for more recipes, videos or information, visit MaryBethsKitchen.com.