Shane Pruitt, national Next Gen director for the North American Mission Board, believes churches now more than ever have the opportunity to step into the brokenness of Generation Z with the hope of the gospel.
In a recent video interview with Baptist Press, Pruitt said the COVID-19 pandemic didn't create new problems for Gen Z — those 25 and under — but instead "poured gasoline" onto problems that were already there.
He encouraged churches to point to Jesus as the solution.
"You have a whole generation that I think realized through the pandemic that the world is broken," Pruitt said.
"They're looking for hope and answers, and that's a perfect opportunity for the church to come in and say, 'We know you're looking for hope. We know you're looking for answers. … The answer has a name, truth has a name — and that name is Jesus.' "
The next generation, however, is not attracted to the "show," Lee Clamp, chief strategic officer for the South Carolina Baptist Convention, told The Courier. "They are attracted to people who show compassion and care enough to listen," Clamp noted.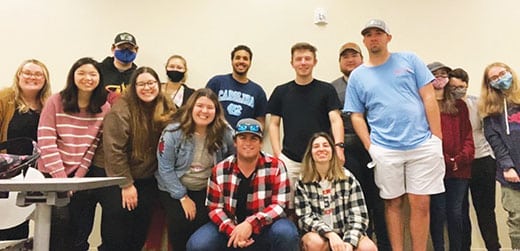 The urgency to invest in reaching the next generation during such challenging times is imperative, he said, noting reported baptisms among the next generation in South Carolina have been cut in half over the past few decades.
"However, those of Gen Z who are following Jesus give me great hope," he added. "They are willing to sacrifice their lives for the sake of the gospel, embrace people of all races, and boldly share the hope of Jesus with their friends and family."
Chad Stillwell, Collegiate Ministries director for the SCBC, concurred. On South Carolina campuses, he said, Baptist Campus Ministry leaders are seeing the darkness of sin and despair increasing, yet they are also seeing that the light of Christ shines brightly in the darkness.
"Students are seeking Christ. They are walking into the doors of our BCM buildings asking how they can find peace," he said. "International students from some of the hardest to reach places on earth are walking into BCM buildings and asking to know about Jesus and get a copy of the Bible."
Stillwell hopes that South Carolina pastors and church leaders are waking up to the need to reach Generation Z. "My prayer daily is that our leaders, parents and disciple makers will see the absolute necessity of sharing the gospel and making disciples of the people coming after us," he urged.
Generation Z is very different in many ways from Millennials, Stillwell noted. "It is challenging to minister, but we are seeing huge returns in our campus ministries and churches that are personally investing in Gen Z by discipling and mentoring them," he said.
"Gen Z has been taught by our culture to doubt and question everything, and this bleeds into their faith in God," he said. "When a leader steps into their lives and invests in them, their skepticism fades away. Their faith grows, and many find faith in Jesus Christ."
BCM leaders are seeing stirrings among students who are willing to give everything to Jesus. "Gen Z may be harder to reach with the gospel, but Jesus never called us to easy things. He called us to hard, but important, things that last for eternity," Stillwell said. "God is moving. The question is, are we willing to invest in them?"
One important avenue for connecting with Gen Z is through social media. Pruitt encouraged churches to ask teenagers in their church for tips in engaging other teenagers with social media.
"I say the most effective person at reaching a teenager with the gospel is another teenager who has a heart that beats with passion for Jesus, and that same heart is broken over the spiritual lostness of their own generation," he said.
— Timothy Cockes, Baptist Press staff writer, contributed to this story.