The Baptist Courier received five awards from the South Carolina Press Association, recognizing work published by the South Carolina Baptist news magazine in 2022. The magazine won first place awards in the Associate and Individual Division in two categories: Faith Reporting and Page Design.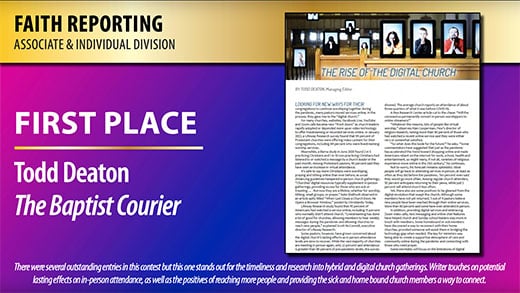 The winning entries were "The Rise of the Digital Church" in the May issue, by Todd Deaton, managing editor, and the July 2022 cover, featuring "NGU Crusaders Win D-II World Series," by Candace Rathbone, graphic designer. The Courier also garnered two second place awards and a third place award.
"There were several outstanding entries in this contest, but this one stands out for the timeliness and research into hybrid and digital church gatherings," SCPA judges said regarding Deaton's article. "Writer touches on the potential lasting effects on in-person attendance, as well as the positives of reaching more people and providing the sick and homebound church members a way to connect," they added.
"Beautiful use of color, fonts and photography. I'd definitely pick up and read this publication!" the judges commented about the November cover by Rathbone.