Male and Female He Created Them: A Study on Gender, Sexuality, & Marriage
(Christian Focus, 2023) by Denny Burk, Colin Smothers, and David Closson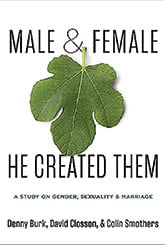 It's almost unfathomable that saying there are only two genders is a controversial statement, but in 2023 that's where things stand in our fallen culture. The most important question for Christians to ask regarding this issue is "What does Scripture say?" Scripture could not be clearer on the issue: God created humanity with two genders, male and female. That's it. All other answers are unbiblical. The world attacks binaries, but God loves them, and we must love what God loves.
My longtime friend Denny Burk, who serves as president of the Council on Biblical Manhood and Womanhood (CBMW), has teamed with David Closson and Colin Smothers to produce an eight-week study of the Scriptures on questions of gender, sexuality, and marriage. I could not recommend this resource (or CBMW) highly enough. There are companion videos that accompany the study as well.
This curriculum is aimed at Christians who are facing challenging questions with the rise of LGBT ideology on topics like homosexuality, transgenderism, gender dysphoria, intersex conditions, preferred pronouns, and more. The study is broken down into eight chapters that guide readers through the Bible's teaching on gender, sexuality, and marriage. The study provides Christians with a biblical foundation that starts in Genesis 1 and 2 with God's good design in making mankind male and female in His image.
God and Transgender Debate: What Does the Bible Actually Say About Gender Identity?
(The Good Book Company, 2022) by Andrew T. Walker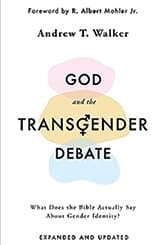 In the West, more and more Christians are coming across the topic of gender identity in their everyday lives. Legislative changes are impacting more and more areas of life, including education, employment and state funding, with consequences for religious liberty, free speech and freedom of conscience that affect everyone. It is a crucial moment to consider how to engage lovingly, thoughtfully and biblically with one of the most explosive cultural discussions of our day.
This warm, faithful, compassionate book helps Christians understand what the Bible says about gender identity and has been updated and expanded throughout, and now includes a section on pronoun usage and a new chapter challenging some of the claims of the transgender activist movement.
Do Not Be True to Yourself: Countercultural Advice for the Rest of Your Life
(Crossway, 2023) by Kevin DeYoung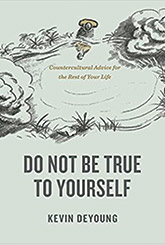 Most speeches addressed to high school and college students follow a similar theme: March to the beat of your own drum. This may sound encouraging on the surface, but Scripture exhorts believers to submit their lives to the will of God, not their own desires. Christian students need gospel-centered truth to guide them on their journey toward independence.
In this collection of inspiring sermons and graduation speeches, Kevin DeYoung delivers a motivational, biblical call to young people: serve God faithfully ― and if necessary, counterculturally ― in the next season of your life.
The Rise and Fall of Dispensationalism: How the Evangelical Battle Over the End Times Shaped a Nation
(Eerdmans, 2023) by Daniel G. Hummel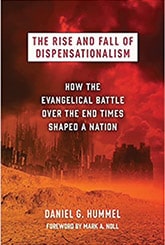 Dispensationalism: What in the world is it? If you've grown up in church in the Deep South, it's virtually certain you've encountered it, at bare minimum you've probably been taught its view of the end times.
This unique volume of historical theology — unique because it is the only study of its kind on the massive theological, political, and cultural impact of dispensationalism — illuminates how dispensationalism, despite often being dismissed as a fringe end-times theory, shaped Anglo-American evangelicalism and cultural imagination.
Hummel locates dispensationalism's origin in the writings of the 19th-century Protestant John Nelson Darby, who established many of the hallmarks of the movement, such as premillennialism and belief in the rapture. Though it consistently faced criticism, dispensationalism held populist, and briefly scholarly, appeal — visible in everything from turn-of-the-century revivalism to apocalyptic bestsellers of the 1970s to current internet conspiracy theories.
Measured and irenic, Hummel objectively evaluates evangelicalism's most resilient and contentious popular theology.