It might have been a prophetic moment when the groom's cake at Evan Knies's wedding was made to resemble a stack of books.
Knies, a Richmond, Ky., native, who presently works in local church ministry in Louisiana, was recently named the new publisher for the Courier Publishing company. He replaces Butch Blume, who retired earlier this summer after serving for 10 years as publisher and had served at The Courier in various positions since 1998.
President and Editor-in-Chief Jeff Robinson expressed deep appreciation for Blume's work and excitement over the future of Courier Publishing.
"Butch Blume did a fantastic job as the founding publisher for Courier Publishing," Robinson said. "Butch brought various needed areas of expertise to the task, from editing and writing to working with writers and much more. Any author who worked with Butch experienced his excellence in communication with and care for the contributors. His background made him the perfect publisher to get Courier Publishing off the ground and firmly established.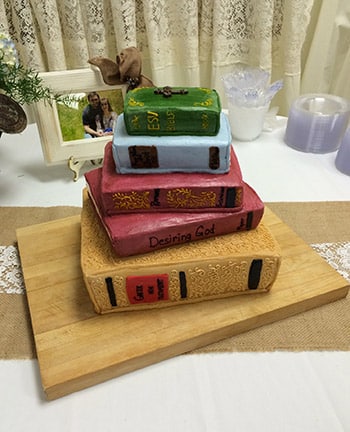 "Evan is similar in the varied gifts and fitting background he brings to the job. He has a deep knowledge of evangelical publishing and knows what constitutes a solid book from biblical and theological perspectives — and priority one at the Courier is immovable faithfulness to God's Word. We plan on expanding Courier Publishing significantly, and I think pastors and local churches are going to benefit profoundly from what's coming down the pike."
Since 2020, Knies has served as pastor of families and missions at North Hills Church in West Monroe, La., where he serves the congregation's families and works with missions organizations in that community and beyond. He has also served as a student pastor in Kentucky and was executive assistant to the director of missions for the Nelson Baptist Association in Bardstown, Ky.
In 2015, he graduated from Boyce College and in 2018 completed an advanced master of divinity at The Southern Baptist Theological Seminary in Louisville. During his time at SBTS, Knies worked as a sales associate for Lifeway and is the founder of The King's Table (kings-table.com), which includes a blog and podcast about culture, theology, and important books.
Given his educational background, his service in the local church, and his experience of working with publishers to procure and review books, Knies was a natural fit for this role with Courier Publishing. As it turns out, the groom's cake was in fact a harbinger of ministry to come.
"I desire to help make beneficial books easily accessible to pastors, church members and professors," Knies said. "I want The Baptist Courier to publish and resource good books for the local church — books that will hold fast to Scripture, that will be in doctrinal alignment with the Baptist Faith and Message, and warm in their reading.
"I serve as a pastor in an SBC church, so my heart is in the local church. Good books can encourage believers in various times."
Courier Publishing will continue to serve pastors and other authors around the Palmetto State as in years past, providing a publishing venue for new or lesser-known authors to teach God's Word and tell their stories through good books.
In the coming months, The Courier will open a new line of books aimed at both pastors and laypeople by authors both in South Carolina and beyond. This line will be branded "1821" — the year the South Carolina Baptist Convention was founded. These books will cover topics related to the Bible, theology, church history, ministry, and Christian living. The Courier hopes to launch the initial titles from this line at the 2024 annual meeting of the Southern Baptist Convention in Indianapolis.