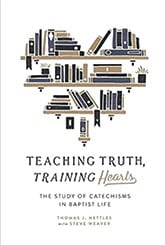 TEACHING TRUTH AND TRAINING HEARTS: THE STUDY OF CATECHISMS IN BAPTIST LIFE (Founders Press) by Thomas J. Nettles
Catechisms are a first cousin to confessions of faith and have served as a useful tool in training the hearts and minds of Christians throughout church history. But the mention of catechisms and teaching by catechesis may immediately raise a question in your mind: Are catechisms a Baptist thing? Aren't catechisms a Roman Catholic thing? Yes, catechisms are a Baptist thing.
In this book, Tom Nettles shows that there was a time in Baptist life when both children and adults learned the doctrines of Scripture by memorizing catechisms. This work also includes examples of some of the best-known and most-used catechisms from the past, including the Baptist Catechism used for decades in Baptist churches, including the congregation of C.H. Spurgeon in London, England. If you want to know more about Baptists and catechesis or if you want to see this excellent form of teaching God's Word take root in your home or church, Tom's book is the place to start.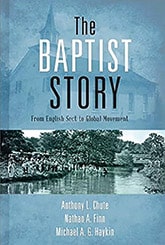 THE BAPTIST STORY: FROM ENGLISH SECT TO GLOBAL MOVEMENT (B&H) by Anthony L. Chute, Nathan A. Finn, and Michael A.G. Haykin
The Baptist Story is a narrative history spanning four centuries of a diverse group of people living among distinct cultures on separate continents while finding their identity in Christ and expressing their faith as Baptists. The authors — three leading Baptist historians — highlight the Baptist transition from a despised sect to a movement of global influence. Each chapter includes stories of people who made this history so fascinating.
This volume provides more than just the essential events and necessary names to convey the grand history. It also addresses questions that students of Baptist history frequently ask, includes prayers and hymns of those who experienced hope and heartbreak, and directs the reader's attention to the mission of the church as a whole. Finn serves as provost at North Greenville University and is published widely on Baptist history and doctrine.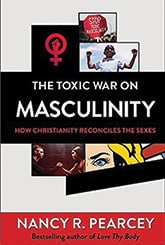 THE TOXIC WAR ON MASCULINITY: HOW CHRISTIANITY RECONCILES THE SEXES (Baker) by Nancy R. Pearcey
"Why Can't We Hate Men?" asks a headline in the Washington Post. A trendy hashtag is #KillAllMen. Books are sold titled I Hate Men, No Good Men, and Are Men Necessary?
How did an ideology arise that condemns masculinity as dangerous and destructive?
Nancy Pearcey is often on the front lines of tackling tough issues of our day. A former agnostic, Pearcey was hailed in The Economist as "America's preeminent evangelical Protestant female intellectual." In this book, she takes readers on a fascinating romp through American history to discover how the secular script for masculinity turned toxic — and what action we can take to fix it.
We often hear that Exhibit A of toxic behavior is evangelical Christian men. But the social sciences tell a very different story. Studies find that family men who attend church regularly test out as the most loving husbands and the most engaged fathers. They have the lowest rate of divorce and — here's the real stunner — the lowest rate of domestic violence of any group in America.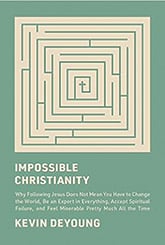 IMPOSSIBLE CHRISTIANITY: WHY FOLLOWING JESUS DOES NOT MEAN YOU HAVE TO CHANGE THE WORLD, BE AN EXPERT IN EVERYTHING, ACCEPT SPIRITUAL FAILURE, AND FEEL MISERABLE PRETTY MUCH ALL THE TIME (Crossway) by Kevin DeYoung
The apostle Paul described the Christian life as a race, but to many believers it feels more like a punishing obstacle course. Fearing they'll never be able to do enough or give enough or be enough, they see themselves as spiritual failures. But Scripture offers good news: Even in ordinary life, Christians can be faithful, fruitful, and pleasing to God.
Impossible Christianity reassures readers that they don't need to feel a collective sense of guilt for sins in the past and solve every societal problem in the present. Through biblical wisdom and engaging personal stories, DeYoung challenges the misconception that we need 40 hours in the day just to be good Christians.