Advertising in The Courier
PRINT CIRCULATION: 23,500 COPIES
ONLINE READERSHIP: 29,000+ MONTHLY PAGEVIEWS
The Courier has served South Carolina Baptists since 1869 by providing trustworthy news, inspiring features and educational resources. South Carolina Baptists comprise the largest Christian denomination in South Carolina; therefore, advertising in The Courier will help you reach this large consumer group. The readers of The Courier are pastors and other staff, church members, denominational leaders and others.
The Courier is a monthly magazine focused on inspirational stories of South Carolina Baptists and their walk with Christ. Our print circulation is 23,500, with an estimated readership of about twice that amount. With rare exceptions, every Southern Baptist pastor and key Baptist church leader in South Carolina receives The Courier. Our online readership averages more than 29,000+ monthly page views, with that number growing daily.
Advertising in The Courier is an effective way to reach your target audience of church staff, key church leaders, and potential customers who are stable, well-educated and with disposable income. The Courier offers display and classified advertising in its 32-page full color magazine as well as its online edition.
The Courier Advertising Deadlines
January (Advertising deadline: December 1)
February (Advertising deadline: January 1)
March (Advertising deadline: February 1)
April (Advertising deadline: March 1)
May (Advertising deadline: April 1)
June (Advertising deadline: May 1)
July (Advertising deadline: June 1)
August (Advertising deadline: July 1)
September (Advertising deadline: August 1)
October (Advertising deadline: September 1)
November (Advertising deadline: October 1)
December (Advertising deadline: November 1)
Print Pricing*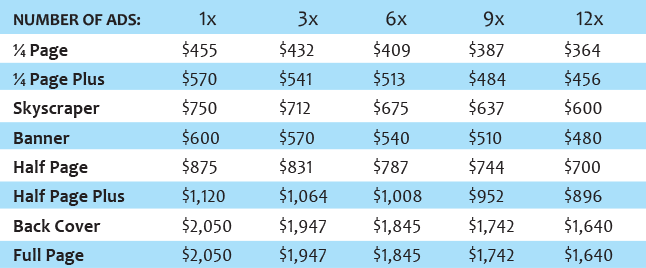 *Church and non-profit rates are discounted 30 percent. Also, South Carolina Baptist churches subscribing to the Family Plan will receive an additional 10 percent discount on display ads. Please call us for more information about these discounts.
Print Ad Sizing
Complete information for advertising in the Courier can be found in our Baptist Courier Rate Card PDF.
 
Print Measurements
Complete information for advertising in the Courier can be found in our Baptist Courier Rate Card_2017 PDF.
 
 Print Layout

Print File Preparation
We only accept ads in 300 dpi PDF format in CMYK mode with all text converted to line art. Photos and line art must be 300 dpi and in CMYK mode. Please convert ALL TEXT to line art. To submit by Dropbox, go to baptistcourier.com/submit or you may submit by email to ads@baptistcourier.com.
Have questions? Please call us or email and let us help you!
Chris Holliday, Chief Financial Officer
Phone:    888-667-4693
Email:     ads@baptistcourier.com

James Plunkett, Sales Associate
Phone:    205-910-1771
Email:     jamesplunkett@charter.net