A few years ago, a good friend and I decided to go on the longest hiking trip we'd ever been on. On the last stretch of the trail, we heard a huge rustle and crash not too far from the trail. My dulled senses sharpened in an instant, and my friend — being on edge even more than I was — grabbed the can of bear spray out of my backpack before I could reach it. We knew we were in the presence of something that could crush us. 
When Jesus calls Himself "the good shepherd" in John 10, we often think of serene or sentimental pictures of a gentle man holding cuddly sheep. It would be more accurate, however, for us to think of a tough, focused individual dedicated to protecting his flock from creatures like the bear my friend and I saw (and doing so without a firearm or bear spray!). Being a shepherd took courage and tenacity (1 Samuel 17:34-27). Along these lines, four points help us as we think this month about the message of John 10.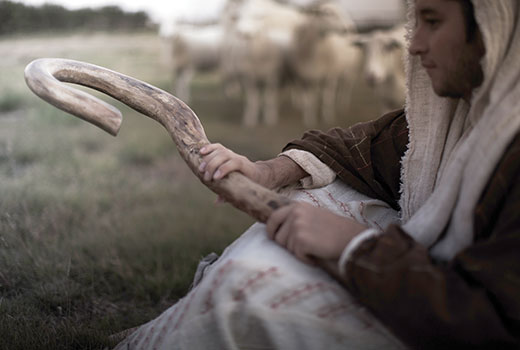 First, by comparing us to sheep, Jesus is making a point about how vulnerable we are to danger. In calling us sheep, Jesus is repeating a theme common in the Old Testament (Numbers 27:17, 1 Kings 22:17, Psalm 23, Isaiah 40:11, Jeremiah 23:1-6, and Ezekiel 34:1-31). Many preachers and teachers point out how sheep lack intelligence. While this idea might be present in the texts, the main point of the analogy is our vulnerability to attack. To trust in the good shepherd is to admit that the forces of this world are far more powerful than you are.
Second, we see that the defining mark of Christ's sheep is whether a person listens to the voice of the shepherd (John 10:3, 4, 16, and 27). We have seen this theme repeatedly in the first 11 chapters of John. The very first verse of the book speaks of Jesus as the "Word." It's no coincidence that one chapter after Jesus says that He "calls His own sheep by name," He says, "Lazarus, come out" (John 10:3, 11:43). (For another powerful example of Jesus calling His own sheep by name, see John 20:16). Jesus' opponents do not believe in Him because they are not His sheep (John 10:25-26). Apparently, they don't hear His voice.
Third, Jesus is comparing Himself to other leaders of His day. John 10 begins in the middle of a conversation about the spiritual blindness of Jesus' opponents in John 9. The "thief" of John 10:10 that we often think is Satan is actually referring to leaders who are trying to lead the people away from Jesus. They have just kicked the man who was blind from birth out of the synagogue (John 9:34). Jesus is saying that they lead for selfish reasons. Unlike hired hands, He will give His life for His sheep (John 10:11, 15, 17, and 18).
Fourth, Jesus is also making a statement about Himself. He is the ultimate shepherd that the Old Testament promised. This ultimate shepherd is both divine and human (Ezekiel 34:15, 23). Jesus is the beloved Son of God (John 10:15, 17, 18, 25, 30, 36, and 39). 
My friend and I were fortunate. Thankfully, the bear we saw was as scared of us as we were of him. The powers of evil, however, are far greater than any bear. We need a shepherd who will never let go of us (John 10:28-29).