November 30
Spring Branch Baptist Church, Hartsville, gospel singing featuring The Floyd Family Trio from Pamplico, 6 p.m. For more information, call 843-335-6651.
November 30
First Baptist Church, Ridgeway, will host Jesse Sellers as guest speaker, 11 a.m. Sellers is a transitional specialist and moderator of Reedy River Baptist Association. Open to the public.
December 4-6
Connie Maxwell Children's Home, Greenwood, presents "A Connie Maxwell Christmas," 6-8:30 p.m. Enjoy the sites and sounds of Christmas at Connie Maxwell's main campus. Admission is free, and so is the hot chocolate! For more information: www.conniemaxwell.com.
December 5-7
Maple Baptist Church, Conway, third annual Nativities Exhibition. Friday, 2-8 p.m.; Saturday, 11 a.m.-5 p.m.; Sunday, 12:30-4 p.m. More than 150 nativities from local, state and international collectors will be on display. The event will also include original works by several artisans, a living nativity and a silent auction. Admission is free; donations accepted.
December 7
Holly Springs Baptist Church, Pickens, 175th anniversary celebration. Worship at 11 a.m., followed by an "old-fashioned dinner" and singing.
December 10
Heath Springs Baptist Church, Heath Springs, concert by the choir from the International Bible College of Zambia, Africa, 6:30 p.m. The public is invited, and a love offering will be taken. For more information, call pastor Frankie Melton at 803-577-7314.
December 12-14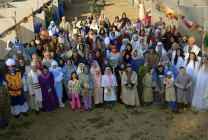 Holston Creek Baptist Church, Inman, presents "Bethlehem Walk" — a reproduction of the busy streets of Bethlehem featuring more than 150 actors, 20 merchant shops and several live animals, and elaborately constructed outdoor scenes, 6-9:30 p.m. Free event open to the public. For more information, call 864-472-2663.